Professional Air Solutions
YORK® advances with time and forges the future by providing professional air treatment system solutions in various applications to meet the diverse needs of green, energy saving, environmental protection and intelligent buildings.
We listen and deeply understand customer needs, devote ourselves to technological development and innovation to create high-quality, high performance equipment, and all-round services which are worthy of customers' trust worldwide.
Focus on IAQ Purification
YORK® has always been committed to sustainable development and to create a healthy and clean building environment. Nowadays along with the government and people pay more attention to environmental protection and the quality of life, indoor air quality IAQ is also being highly valued.
YORK® provides a variety of solutions for particulate matters, microorganisms, TVOC and other pollutants purification to meet the needs of different places and customers like shopping malls, office buildings, industrial, hospital etc.
Johnson Controls York YTM series air handling unit adopts the Micro-Module design which offers more compact casing structure and higher casing utilization. The YTM new patented casing has outstanding performance in mechanical strength, air leakage, thermal insulation and thermal bridge, etc., and has obtained international certifications.
The air volume of the YTM series ranges from 2,000 to 60,000m3/h. The panel thicknesses of 25mm and 50mm are available. The maximum external static pressure of the standard design reaches 1500Pa (the panel thickness is 50mm).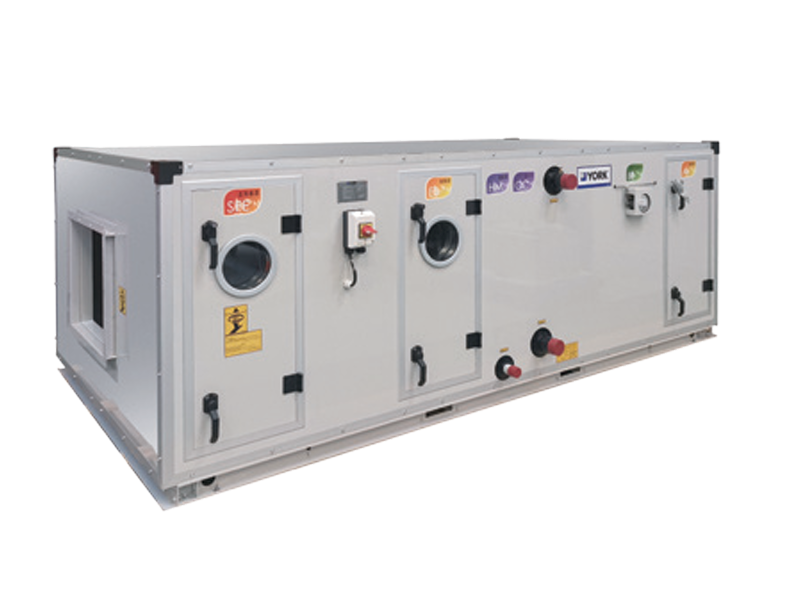 High Efficiency & Energy Saving
Thermal Bridge Free Design
New aluminum alloy profile with internal PVC thermal bridge free design offers better thermal insulation performance and aesthetic casing appearance. The casing thermal bridging factor complies with EN1886 TB1 class.
Better Thermal Insulation
Double skin construction is provided by "sandwich" type panels. The foam panel and profile skins are injected with Zero ODP & Zero GWP PU foam of ≥40kg/m3. The casing thermal transmittance factor complies with EN1886 T1 class.
Low Air Leakage
The annular interlocking structure is tightly engaged and sealed with the PVC and NBR strips to eliminate air leakage. The frame of the foam-molded inspection door are insulated with PVC and sealed with liquid foam. The casing Air Leakage complies with EN1886 L1 class.
Low Filter Bypass Leakage
Optimized filter arrangement with high performance unitary sealed structure filter frame greatly enhances the purification efficiency. The filter bypass leakage rate complies with EN1886 F9 class.
Green Solution
IAQ Solution
Electrostatic Precipitator
High voltage electrostatic precipitation technology effectively remove particles as small as 0.01μm and perform air sterilization simultaneously.
UV Lamp
It realizes the sterilization through the ultraviolet radiation released by the UV lamp. It is convenient to use.
TiO2 Sterilizer
It achieves the effects of sterilization, deodorization, and TVOC removal through photocatalytic oxidation.
Hygiene Application
The seamlessly spliced panels have a flat and smooth surface, effectively prevent the accumulation of dust and water.
Optional high quality direct-driven plug fan from well-known brands that avoid pollution caused by wear of the drive belt.
Drain pan with stepped structure and longitudinal slope design allows quick and fully drainage of condensed water.